Bailey, over at AddictedToAddison, made a "show us your life" post recently. Though I've been meaning to do the same, due to complications with my computer I'm just now getting to it. So let the fun begin!!
First and foremost, when it comes to make-up... I swear by M.A.C.! I started using it my freshman year in high school (approx. 8ish years ago, or something like that) and I've never went back to drug store cosmetics.:)
One. Prep+Prime Skin
I personally like to call this my magic potion :) You apply it before applying your foundation, and it helps keep your foundation in place throughout the day. Before I got this good stuff my makeup would be all blotchy and what not by the end of the day but considering it helps regulate the oil in your pores it keeps your foundation put.
Two. Zoom Lash
There's no mascara (that I've been able to find) that beats MAC's Zoom Lash. It's pretty much a tube filled with all your eyelash needs. It plumps, curls, and lengthens.
Three. Studio Fix Fluid SPF 15
This is the foundation I use. It's very light, so it doesn't feel like my face is caked on. It's the best coverage I have found from a foundation. I highly recommend getting this good stuff. And of course, it's MAC :]
Four. Select Sheer/Pressed
This is one of my all time favorite powders. I don't recommend using it without a light weight foundation underneath because it's not neccessarily the best for full on coverage. I always apply it on top of my Studio Fix because it's good for "setting" your foundation. Plus it extremely light, hence "sheer".
Five. Eyeshadow
First a foremost, MAC eyeshadow can be a little on the pricey side. It's sold at $14.50 per color, but that's why I pick and choose exactly what colors I get. (example: I don't go and buy a turquoise color for my halloween outfit, chances are I won't be wearing it very often so there's no need to spend that amount of money for just one color. ya dig?) Anyways, moving on. I get most of my basics from here. My two favorites that I just can't seem to get away from are the colors "Hush" and "Cranberry". MAC eyeshadows are extremely pigmented so when applying they appear exactly as they do in the case. (whereas if you buy covergirl and the color looks as though its black yet it goes on gray... now, if you buy mac black, trust me its going to be BLACK).
Six. Blush
Oh yes, it's true... I don't use ALL mac products. I really love cliniques blush. It's extremely light weight and well pigmented and it also blends extremely well.
Seven. Clinique's Skin Care
I use it all. The facewash, the toner, and the moisturizer. It's affordable and it keeps my face in shape. :)
Eight. Osis 'Dust-It'
This stuff it genius. I don't always feel like teasing my hair a little to get that good poof going so this stuff is good to keep in reach. It's like a powder and you just simply put it in your hands then mess your hair up then comb your hair into place. It's great for giving your hair some texture so you can work with it. This is a Schwarzkopf product so chances are you will either half to buy it online or through your cosmetologist.
Nine. GVP Hairspray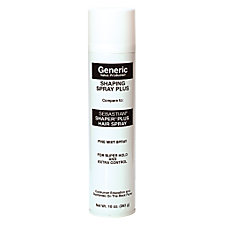 I've used pretty much all the salon hairsprays. None give me the "flexible hold" that I'm really looking for. Then my mom (a cosmetologist) told me about GVP products. GVP (generic value product) is sold at Sally's Beauty Supply. It's extremely cheap but they work. I've also used their root lifter as well as their volumizing gel, I'm a fan of both.
Ten. Chi Straightner
Ok I absolutely swear by my Chi. Nothing works better. I love it. :]
Hope you enjoyed 'my life'.