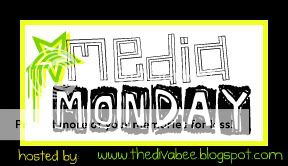 Welcome back to Media Monday, hosted by yours truly! Each week we have a different media theme from photography to movies to music! Feel free to join in the fun and make sure to leave a comment and a link to your very own MM post.
Due to the current events taking place in Nashville, Tennessee and surrounding middle TN areas, aka my location, I've decided to do another photography themed week. It's been pretty hectic here so post any kind of picture you want, give a description... be creative. I personally am going to post about what's been going on here. If you want a little more direction, post a picture that has a story behind it, my story is going to be almost unbelievable!
Have ya'll heard about what's going on in middle Tennessee? Well let me tell you, Niecy Nash says it best,
a whole bunch of foolishness!
I know some of you follow Bailey's blog at
Addicted to Addison
and she recently posted about the current event taking place as well. [
you can find it here
]
We had a pretty big storm come through over the weekend, it called for flash floods.
But seriously, who would have thought it would get this bad?
Interstates were shut down as well as many main roads, and backroads. So far eight deaths have been reported, and one birth. One birth?! Yes, you read correctly. A woman was trapped in her home and it just so happens that in the neighborhood next to hers lived a nurse as well as a doctor. When reported that she was trapped and going into labor, they hopped in a canoe, went a rescued her, and delivered the baby...
in the canoe
! Talk about crazy stuff! Opryland hotel in Nashville had to evacuate due to flooding as well; 1,500 people had to stay in a local high school. It was just reported that it currently has six feet of stand still water inside the hotel. Also in the Madison area three men were trapped on the roof of the local Pep Boys. The last thing I heard was that they were on the roof for two hours and still had not been able to be rescued (chances are they're safe and sound now... hopefully anyways). The interstate was absolutely
crazy
. There were people floating down the interstate on top of their cars, there was a house floating down the interstate, there were boats rescuing people as well. So far there has been 600 people rescued from homes in Nashville, reported by
WSMV
. So on to the pictures/evidence!
All pictures were found via Google Images.
This is just a few of the pictures. You can find some really good pictures at
WSMV
.
You will have to forgive me for not posting lately. I have been super busy, with Jacob spending the night and a few other things. I also
yes I'm confessing this
have been
extremely
lazy. I'll be posting pictures of our adventurous weekend with Jacob soon! Also, I know I haven't been commenting on many blogs here lately, nor responding to comments, please forgive me! I still love all of you. AND not to forget I love love love your comments and love that you leave me!!
so please don't stop!
*I am not a reporter, duh, but everything I have said in the "reporting" of the storm has been reported by several different media outlets. You can click on the following links to read and watch more footage. :)
WSMV
The Leaf Chronicle
News Channel 5
CNN