GIVEAWAY! Dirty minds...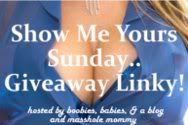 Today I'm linking up with Boobies and Masshole Mommy for their Show Me Yours Sunday. A link up that features current giveaways being held. You can go there and peruse different giveaways or you can post yours to get more entries. Win/win situation.
Speaking of giveaway, I never set an "end date". The giveaway will end on February 29th at 12AM, yep...leap year baby. The winner will be announced within a week. If the winner does not claim prize within a week, another will be chosen.
It's been just another Sunday spent in DTown. This time we did things a little different. Instead of going to either of Honey's grandparents house we went to his sister's. She made spaghetti, nomnomnom! Then we headed to his parents house where unfortunately his mom had to work but his dad had some friends over playing guitar and whatnot in the basement. Nothing too terribly eventful which is kind of a relief because I haven't been up for too much excitement in my plans this weekend. I'm loving the laying low status right now ha! Honey took off to the gym so now I'm at home with loads of laundry, again. No one's home so it's kind of the perfect way to round off the weekend. Alone time. Quiet. Peaceful...I don't get much of that anymore. I'm off to go spend "me time" and by "me time" I mean I'm going to over indulge in The Sims 3- ever since I got my new computer I'm sure Kyle half-way feels single again (yeah right, he calls it my babysitter).
Hope everyone had a great weekend!