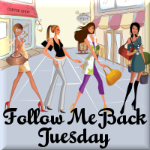 I'm participating again in FMBT. If you're interested in finding some new good reads, as far as blogs go, I suggest you participate. Last week I came across several new blogs that definitely caught my interest and apparently mine peaked other because I gained 8 new followers. So in case you want to just whore your blog out, participating would be in your best interest...
just saying!
Furthermore I've decided to do the ABCs of me in this post as well for those who do stop by. Enjoy :)
A. Age: 22
B. Bed size: Full. I plan on upgrading once I have my own place, of course.
C. Chore you dislike: Emptying the dishwasher.
D. Dogs: 2- Bootie and Finley. And for those of you who weren't around for the intro to my pups lemme explain how Bootie got his name. So we bought him and couldn't think of a name. We tried everything, nothing stuck. Well brilliantly enough, Destiny's Child came out with "Bootylicious" so we just kept telling him he was Bootylicious and it end up sticking, later being shortened to Bootie. Trust me, it fits him.
E. Essential start to your day: I go pee every morning routinely, even if I don't need to. But maybe that was tmi. I also start my day with taking OEP and accompanied with a cigarette and slim fast.
F. Favorite color: Green
G. Gold or silver: depends on what I'm wearing of course.
H. Height: 5 foot, 3 inches Shawtttyyyy!
I. Instruments you play(ed): I attempted the guitar once, now vie realized that I'm becoming a pro burper. Yes, I'm very ladylike.
J. Job title: Manager. Some say I'm a pretty big deal.
K. Kids: my boyfriend. Oh wait I mean...
L. Live: in the dirty south. Also referred to as Tennessee.
M. Mom's name: Queen Bee. Mitzi. Whatever you prefer.
N. Nicknames: Haley Bug. Or in Honey's case honey suckle, baby, sweet heart...you get the drift.
O. Overnight hospital stays: As company. Never myself.
P. Pet peeves: Wet grass. Greasy hair. Bad drivers. What up road rage.
Q. Quote from a movie: Do I really have to get on imbd right now?
R. Righty or lefty: righty, yo.
S. Siblings: One. A sister. She goes by ashley.
T. Time you wake up: My alarm clock goes off at 5:30 but I prolly roll outta bed at like 6:30, 6:05 on a good day. :)
U. Underwear: Depends on the mood I'm in. I hate VS cheekies though, they always end up wanting to be a thong due to my large ass.
V. Vegetables you dont' like: unfortunately the better question would be which one DO I like. Hmph, fatty.
W. What makes you run late: queen of procrastination right hurrr.
X. X-rays you've had: When I got in a car wreck and when I went to the chiro.
Y. Yummy food you make: Meatloaf, chili, anything that includes hamburger meat I've got it.
Z. Zoo animal favorites: Giraffe. I could watch them forever however the monkeys amuse me too.
Hope you enjoyed, now hop over to see Boobies!