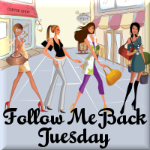 I love boobies. Not just any set of boobies. Not just any pair of boobies. But this boobie:

and considering I hardly ever take part of "hops" this should say something. So hop along now and go check out Boobie.
Side notes:
Welcome to my new followers. Obviously you're okay with cussing, ranting, and occasional sex talk. Which makes me love you already. Make sure to leave me a comment, I'll be sure to drop by your place.
As far as work goes, I have a ton of shit to do today. So with that being said holllllaa!!!!