Today has all around been a good day! Nothing too significant happened. I woke up kinda, okay really late
for me anyways
. Got up at 10'ish and automatically went to see what Jacob was up to. He's finally learned how to grab things and hold them up. Of course, he hasn't fully got the hang of it yet... but he's getting there. I came into the kitchen and he was in his bouncy seat with his little blue elephant toy. It was super cute :) Anyways, I hung out with that cute little booger for a little bit then took a shower and got ready for work. Today I went in 2 hours early so my sister could get some grocery shopping and other errands done before picking Jacob up. OH! I almost forgot, something extremely significant happened today! Well, significant i'm not so sure of, but exciting indeed! Jacob got accepted into
The Giving Tree
!! We were all super excited, especially considering he wasn't even suppose to get the opportunity to be accepted until August! Woop Woop! Go Jacob! Hehe.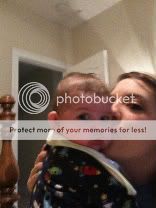 Jacob Riley and I hanging out today! He's so precious!
Sorry the picture isn't exactly centered, I took it with my phone :\
So on another post, I informed ya'll that I bought a new pair of heels, a clutch and two shirts. Here's what they look like!
The Shirts.
from Rue21, on sale 6$ a piece!
The Heels
from TJ Maxx, they're NineWest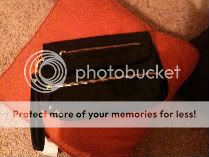 The Clutch
I absolutely love this clutch because it has so many compartments! from TJ Maxx as well.
So there's my lovely items I bought Saturday. Who can beat 12$ for two shirts!? Seriously? Amazing. The heels were only $60 and the clutch was only $14. I love all of the stuff I got, especially since it was all so cheap! hehe. Next Wednesday I think my co-workers and I are going to be heading to Nashville for another night at PLAY.* I can't wait! I love it there! So that should be pretty exciting. Hopefully this week will end up pretty good in the meantime.
Hope everyone's week is going good so far!
*I am not gay. However, I do have many gay friends. I support the gay community just like it's the straight. I personally believe they should be treated as equals. However, if you have your own opinion about the gay community, I would prefer you not to publish them in comments nor emails pertaining to my blog. This is my space to display MY opinions and I would greatly appreciate if there are no discriminating nor hateful remarks. Thanks :)